Description
Strong Wire Mesh
4.75mm hole heavy duty strong wire mesh in top quality 304 grade stainless steel made from 1.6mm wire. As you can see from the image, this is a heavy woven mesh specification. 4.75mm aperture is fairly large to be woven to form a mesh netting, as a consequence it requires a thick wire to produce.
With 4 holes per linear inch, this mesh boasts a 1.6mm wire diameter and a 4.75mm aperture; ensuring optimal strength and durability. Its corrosion-resistant properties make it ideal for various industrial applications, including filtration systems and security fencing. Not only is it versatile and long-lasting, but it also has an appealing aesthetic, making it a popular choice for architectural features. Trust The Mesh Company's stainless steel wire mesh for your next project to guarantee high-quality results.
Wire Cloth Specification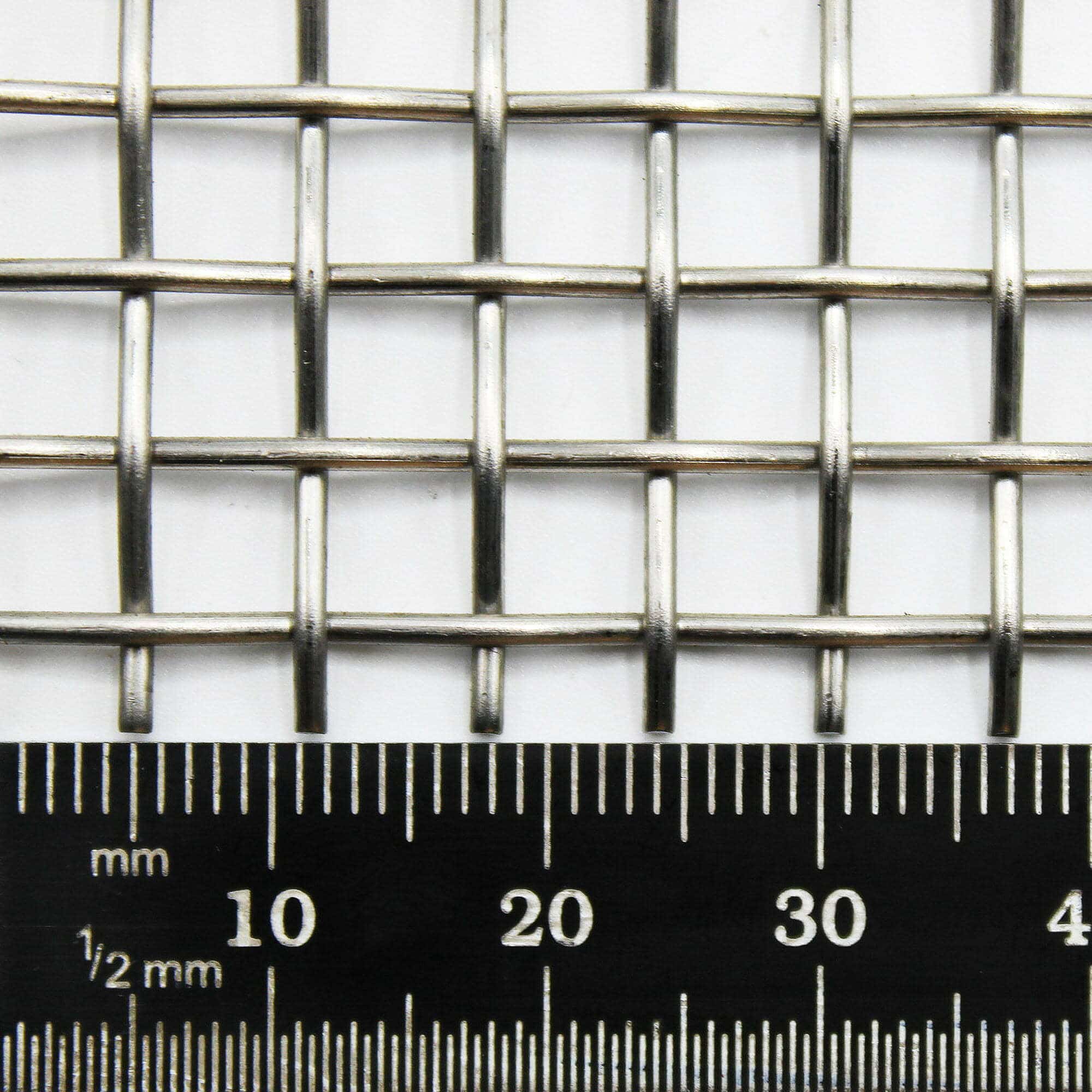 The specifications of this woven wire mesh are as below:
Mesh Count = 4 holes per linear inch
Holes / Wires Per Square Inch = 16 holes per square inch
Wire Thickness = 1.6mm
Hole Size / Aperture = 4.75mm
Open Area % = 56%
Cut With – Tin snips, guillotine or angle grinder
Wait!! Before you order your mesh please first check out our clearance listing which is where we put all of our over-run bargain rolls at reduced prices. You never know, you might find just the roll that you need for your purposes.
We also offer a massive range of 304 stainless steel perforated metal sheet options from immediate stock. In order to produce stainless steel perforated metal sheet, flat sheet metal is punched with round or square holes. Perforated sheets are commonly often used in applications where the passing of air is required. Because the holes are punched, it is possible to have a far stronger finished metal product than it would be for the equivalent thickness in woven or welded mesh.
Why Choose The Mesh Company?
Our group have been in the mesh industry for over 150 years. We are one of the UK's most trusted mesh suppliers because:
Quality products: We offer high-quality products that are designed to meet the needs of a wide range of customers. 
Wide range of products: We are known for offering a wide range of products, including mesh, fencing, netting, and other related products. 
Experienced staff: Our staff are knowledgeable, experienced, and can provide expert advice and assistance to customers. This can be especially helpful for customers who are unsure about which product to choose or who have specific requirements. We also regular write blogs and help guides to help explain what our materials can be used for. 
Competitive prices: We are sure that our prices are always the lowest around. This makes us an attractive option for customers who are looking for a cost-effective solution.
Customer service: The Mesh Company place a high priority on service and offer excellent support and assistance to our customers. This can help to ensure that you will have a positive experience when working with The Mesh Company.
What Other Woven Mesh Options Are Available?
The Mesh Company has an enormous range of woven wire mesh products.  We truly are an industry leader among suppliers of weld mesh and woven wire materials. With the capabilities we have in-house, we can provide virtually anything you require.
Copper, brass, black, and galvanised steel wire mesh materials are also available in large stock quantities at bargain prices. See our blog for specific information on all of our various material options.
---
FAQs For This Product
What Are The Benefits Of Using Strong Wire Mesh?
Stainless steel woven wire mesh is a popular material in many industries due to its increased durability and strength.
Using strong stainless steel woven wire mesh has many benefits, including its ability to withstand high temperatures, strong impact, and corrosion. This material easily maintains its shape and should never rust or corrode under the right circumstances. These characteristics make it ideal for outdoor applications or harsh environments.
Additionally, the tight and precise weave of the mesh provides exceptional strength and stability, making it perfect for heavy-duty applications, such as construction or mining.
Is Wire Mesh Easy To Maintain?
Yes, this strong wire mesh is relatively easy to maintain. Since it is made from high quality 304 stainless steel, it is resistant to corrosion and rust, which reduces the need for frequent maintenance.
However, like any other material, strong wire mesh requires periodic cleaning and inspection to ensure its long-term performance and durability.
Regular cleaning of this strong wire mesh can help to prevent the accumulation of dirt, debris, and other contaminants, which can contribute to corrosion and other forms of damage over time. This is necessary as this mesh will act as a filter and will hold onto any particles that are larger than the holes.
In addition, regular inspection can help to identify any areas of the mesh that may be experiencing wear or damage, allowing for timely repairs or replacements before more serious issues arise.
What Options Are Available?
Strong wire mesh is an essential material with numerous applications across different industries.
While there are several options on our store, some of the most popular strong wire mesh materials include stainless steel woven wire mesh, galvanised steel, and mild steel.
Heavy duty stainless steel is the most popular option as it is highly durable and resistant to corrosion even in harsh environments. This is exemplified by the fact that we offer more options of stainless steel woven wire mesh than anything else.
Galvanised steel is also popular for its strength and reliability. We do not have any options as heavy as we do in stainless however. Above 2.5mm then it tends to be stainless steel only.
As well as these woven wire mesh options, we also stock super heavy duty welded mesh options in galvanised steel and green PVC coated steel. Weld mesh tends to be far thicker and stronger than woven due to the fact that the wires are welded together and do not need to go through a loom.
Ultimately, the choice of the strong wire mesh material should be based on the intended use and environmental conditions.
Do You Have This Mesh In A Different Metal?
Not exactly the same. We do have a mesh with a 5.45mm hole. The wires are not as thick as that for this material, so it is not as strong. However, it is a very popular heavy duty mesh option as it can easily be welded.
---
Check out our blog 'about using this mesh for aggregate sifting for more information on this product. Our goal for our blogs and help guides is to answer as many questions as possible to help to explain the possibilities of mesh to our customers. You may also be interested in our blog about hardware cloth. This article explains the term in great detail. 
Contact our team today if you have any questions at all. We are always really keen to help in any way that we can. 
We also offer similar products through our highly popular eBay store, check us out there too.