Description
Epoxy Coated Black Metal Mesh
2.47mm hole heavy duty epoxy coated black metal mesh made from 0.71mm wire. 2.47mm aperture is fairly large to be woven to form a mesh netting, as a consequence it requires a thick wire to produce. The mesh is strong and long lasting.
Black mesh made from 0.7mm wire thickness and coated with black epoxy is an excellent option for heavy-duty projects that require a high level of durability. With 8 holes per linear inch, this black mesh is perfect for applications that require superior airflow, while still being durable enough to withstand harsh environments. Its top-quality construction makes it ideal for a range of projects, from industrial settings to home projects. Whether you're in need of a dependable material for fencing, ventilation screens or filtration systems, black mesh offers the strength and reliability to get the job done right.
This mesh size is also available in stainless and galvanised steel.
Wire Mesh Specifications: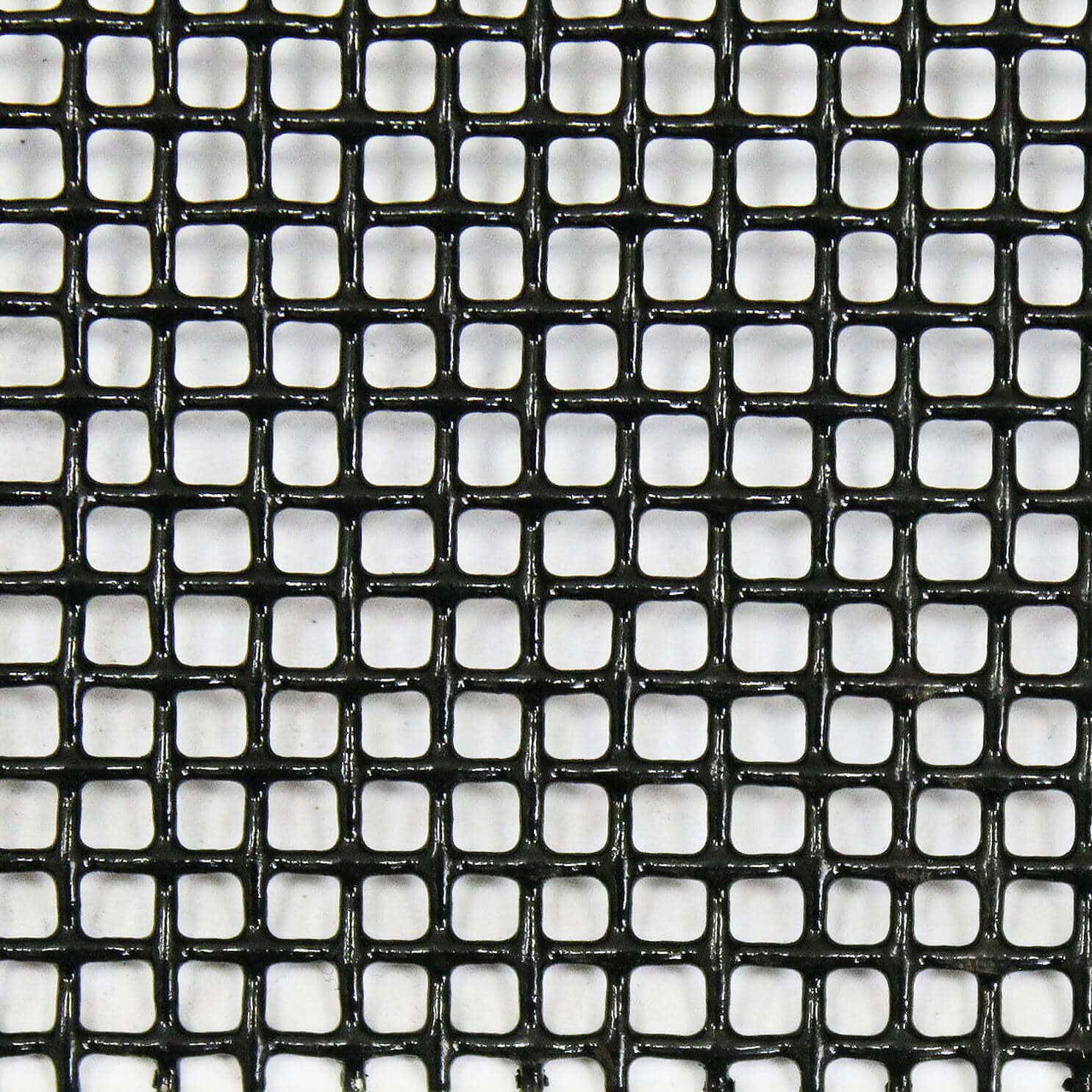 Below are the specifications of this 2.47mm wire heavy duty mesh:
Mesh Count = 8 holes per linear inch. The amount of holes measured against a straight line inch
Holes / Wires Per Square Inch = 64 holes per square inch. The amount of holes per linear inch squared
Wire Thickness = 0.7mm. The thickness of each wire. The structure is thicker than this where two wires meet
Hole Size / Aperture = 2.48mm. This is the square hole size from wire to wire
Open Area % = 61%. The amount of the mesh that is open. The higher this number the more open a mesh is
Cut With – We cut this mesh with tin snips. We suggest that you do the same
Filters out particles larger than 2.5mm.
What Other Woven Mesh Options Are Available?
The Mesh Company has an enormous range of woven wire mesh products.  We truly are an industry leader among suppliers of weld mesh and woven wire materials. With the capabilities we have in-house, we can provide virtually anything you require.
Copper, brass, stainless steel, and galvanised steel wire mesh materials are also available in large stock quantities at bargain prices. See our blog for specific information on all of our various material options.
---
FAQs About This Product
What Is Black Metal Mesh, And What Applications Is It Useful For?
Black metal mesh refers to a type of steel mesh that has been coated with an epoxy material, resulting in a black matte finish.

This coating not only provides aesthetic appeal, but also enhances the mesh's strength and durability, making it an ideal material for a range of applications. Black metal mesh can be used in architectural and interior design projects, as well as in industrial settings for filtration, screening, and reinforcement purposes.
Some specific applications include:
Beekeeping: This is the most popular mesh material for use as the base of beehive floors. We have it available in pre-cut sizes for this very purpose and we have written a handy article which will explain this use further.
Adding a decorative element: Black metal mesh can be used as a screen or divider in interior design projects, adding a unique texture and visual interest to a space. This mesh has a shiny matte finish so it is quite visually striking.
In landscaping: Mesh panels can be used as trellises for climbing plants, providing support and creating a unique visual element
For safety and security: Mesh can be used as a barrier for security fencing, preventing intrusion while allowing visibility for surveillance.
What Are The Benefits Of Using Black Metal Mesh Over Other Types Of Screens Or Meshes?
Compared to other materials such as plastic or aluminium, black metal mesh offers several advantages:
Strength and durability: Epoxy coated steel mesh is much stronger and more durable than plastic or aluminium mesh. It is resistant to corrosion, impact, and wear, making it suitable for long-term use in challenging conditions. The epoxy layer acts as a layer of protection for the steel. It also makes it easier to clean the mesh, which is especially important.
Aesthetics: Black metal mesh has a modern, industrial look that is popular in contemporary design. It can add a unique visual interest to a space while also serving a practical function.
Versatility: Black metal mesh can be used in a specific range of applications, from architectural and interior design to industrial and commercial settings. The mesh is strong and will retain its shape, however it will require structural assistance if it needs to cover a lot of open area (such as a fence).
What Are The Different Types Available?
We stock a couple of options of black mesh:
Black epoxy steel: this is the material in this listing. Black epoxy steel mesh is coated with a black epoxy resin. This coating provides the mesh with additional protection against corrosion and wear, making it suitable for a variety of applications where durability and resistance to environmental factors are important.
Black fibreglass insect mesh: black fibreglass insect mesh is a type of mesh that is designed to keep insects out while allowing air flow and light transmission.  Black fibreglass insect mesh is commonly used in windows, doors, and other openings to prevent insects from entering buildings while still allowing fresh air to circulate. It is also used in outdoor enclosures, such as patios and screened-in porches, to create a comfortable and bug-free space for relaxation and entertainment. It is a much lighter mesh than the epoxy steel. The wires are less than half the thickness, and fibreglass is a far softer metal than steel.
When choosing the right black metal mesh for your project, consider factors such as the desired strength, appearance, and function.
What Are The Characteristics Of Black Epoxy Mesh?
Below is a breakdown of the key characteristics:
Bending & Forming – Good. It is possible to bend this metal by hand. Use gloves to handle this mesh
Corrosion Resistance – Good. We produce this from mild steel that has been epoxy coated, which gives it the black finish that protects it from the elements
Filtration – Good. This mesh has a large open area, consequently it is popularly used as a large filter or barrier
Welding – Poor. Epoxy coated metal cannot be welded
Painting – Poor. It's best to paint plain steel since it doesn't have a coating. This product already has a coat
---
This mesh is often used at the bottom of beehives. We recently published a handy article on the benefits of using wire mesh in a beehive.
Contact our team today if you have any questions at all. We are always really keen to help in any way that we can. 
We also offer similar products through our highly popular eBay store, check us out there too.