As a beekeeper the top priority is providing your bees with a safe and healthy home.
This is why it's paramount to make sure the bottom of your beehive is structurally sound as this can provide airflow and help to protect against pests. 
One way to do this is by using wire mesh. In this article, we'll go over the benefits of using wire mesh for a floor in your beehive, as well as a step-by-step guide on how to install it.
Let's get into it….
Proper ventilation is essential to keeping your hive healthy.
Too much moisture build-up can lead to mould and fungus growth, as well as make it easier for mites and other harmful pests to breed.  Woven wire mesh allows for proper airflow and reduces the risk of moisture build-up.
Also, bees maintain a consistent temperature inside the hive to ensure the brood's development and survival. Adequate airflow helps dissipate heat, preventing overheating in warmer months and maintaining optimal conditions for the colony.
As well as this, bees produce carbon dioxide (CO2) and other waste gases during respiration. Adequate airflow provided by using mesh, helps remove these gases from the hive, ensuring a healthier environment for your colony.
Varroa mites are a common problem among beekeepers, as they can cause numerous diseases and even death among your bee population. Several years ago we were made aware of this use of mesh by an expert beehive producer, and ever since we have offered beekeeping mesh to help to fight against the dreaded varroa mite.
Varroa mites can be quite hard to get rid of once they've infested your hive. The good news is that by using wire mesh as a floor in your beehive, you can help control varroa mite infestations.
The mites will fall through the mesh and won't be able to climb back up to re-infect your bees.
Bees are fairly clean insects, but that doesn't mean their hives aren't susceptible to dirt, debris and dead bodies. 
By using wire mesh, you give yourself easy access to cleaning out the bottom of your beehive.  All you need to do is slide out the removable bottom board and brush or vacuum out any debris. 
Usually, you would need to remove the bottom board and use a scraper tool to remove any debris and check for signs of disease. 
Increased Hive Durability
Wire mesh is also a durable material, which helps protect your beehive from wear and tear. We offer it in stainless, galvanised and black epoxy steel. All of which offer fantastic levels of corrosion resistance and durability. 
It helps prevent moisture build-up, which can cause the wood to rot or warp. And since it's made of metal, it's resistant to most bee diseases and pests.
Installing wire mesh as a floor in your beehive is a fairly easy process.
First, remove the current bottom board from your hive. Then, measure the inside dimensions of your hive and cut wire mesh to size.
As a rule of thumb a National Hive is 450 x 450mm and a Langstroth Hive is 500 x 400mm. 
Be sure to use a wire mesh with around a 2.5mm hole to prevent bees from getting through. Our range of beekeeping mesh is perfect for this task and have been used by many beekeepers all over the country. 
Place the wire mesh onto the bottom of your hive and attach it securely with staples or screws. Finally, add a removable bottom board on top of the wire mesh. Simple. 
What Options Are Available?
Stainless steel wire mesh is often used for beehive flooring because of its durability and resistance to corrosion.
Additionally, stainless steel wire mesh is easy to clean and maintain, which is important for promoting healthy bees and preventing the build-up of harmful bacteria and pests.
It is also a cost-effective solution for beekeepers who want to provide a long-lasting and reliable flooring for their hives.  Stainless is the most expensive to produce, but it gives the longest lifespan, which makes it great value.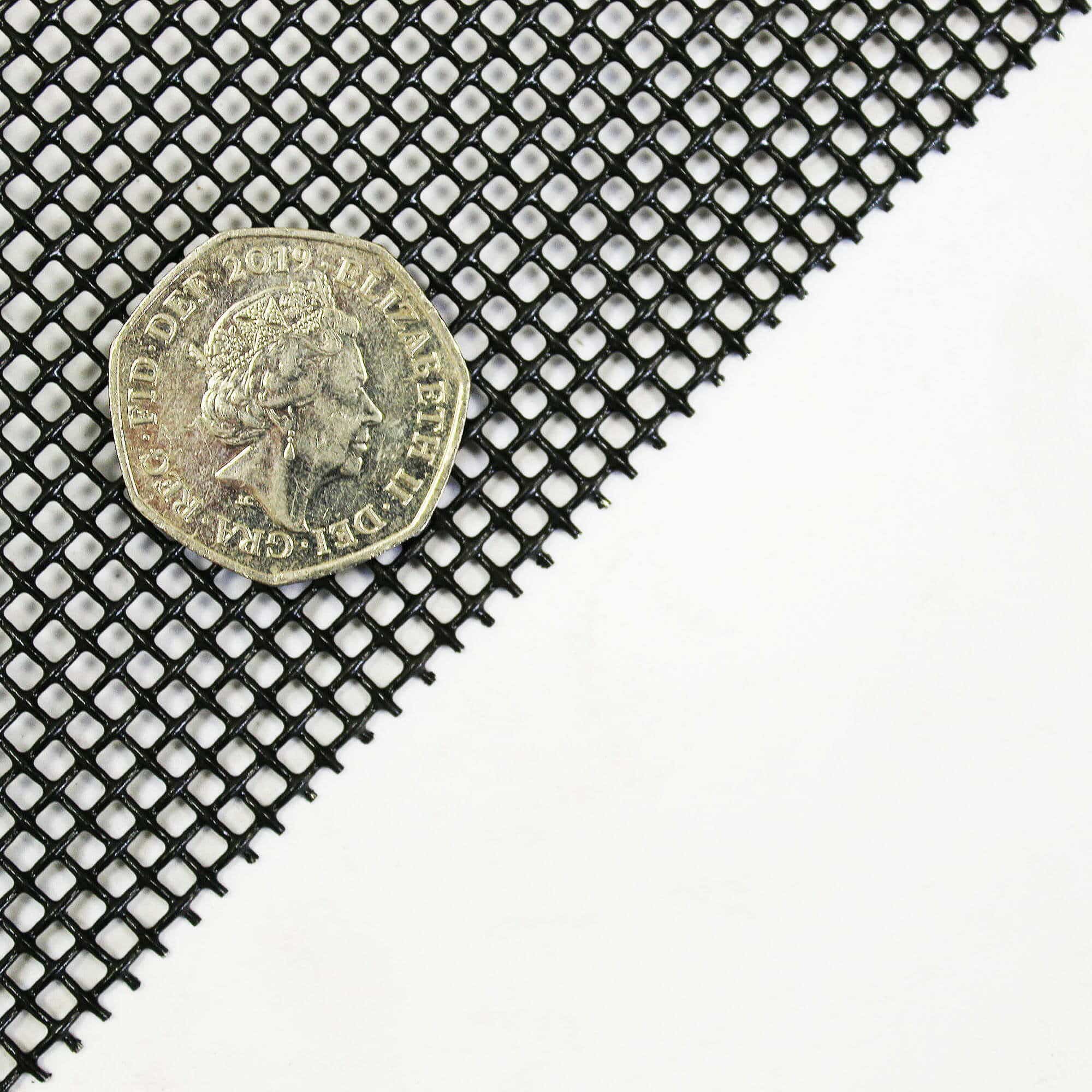 The black epoxy coating provides an extra layer of protection against rust and corrosion, making it a more durable and long-lasting option. This is particularly important for beekeepers in areas with high humidity or near the coast, where corrosion can be a significant problem.
In addition, the black colour of the epoxy coating can help absorb heat from the sun, which can help to keep the hive warm during cooler weather. This is important for maintaining the health and productivity of the colony, as bees require a consistent and warm temperature to thrive.
Similarly to stainless steel, galvanised provides a durable and rust-resistant surface that is easy to clean and maintain.
Using wire mesh for a floor in your beehive provides multitudinous benefits, from increased airflow and easy cleaning to varroa mite control and increased hive durability.
It's also an easy material to install and maintain. By following our step-by-step guide, you can ensure you give your bees a safe and healthy home.
As always, thank you for checking out our blog. We hope that this helps you with your project. We try to launch a couple of new guides every week. Eventually we will have covered everything there is to cover about mesh. 
You may be interested in our blog that explores how to build a chicken coop. 
Our goal for our blogs and help guides is to answer as many questions as possible to help to explain the possibilities of mesh to our customers. 
Contact Us Today
Please feel free to contact our team today if you have any questions at all. We are always really keen to help in any way that we can.